My Cats
If someone had told me that I would someday share my home with a cat, I would have thought they were crazy — I ended up sharing my home with three cats. The beloved felines below have all passed now. They brought me many years of laughs and left me with lots of sweet memories.

As a result of sharing my home with three felines, I ended up doing volunteer work for Noah's Ark Animal Foundation, a no-kill shelter located in Fairfield, Iowa. When they needed help creating a new Web site, I offered my humble services. You can visit the site at www.noahsark.org.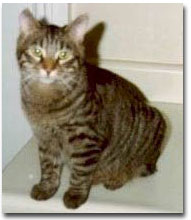 Blossom's Story
Hello! My name is Blossom. I came to live with my mother, Carolyn, in 1999. A friend of hers found me (with a broken leg) in her garage the morning after a very blustery snowstorm. Carolyn brought me into her home and I have been very happy and warm ever since. My favorite activities include napping, batting toy mice under the fridge, watching the birds out the window, sleeping, and watching my mom retrieve my mice from under the fridge. As you can see from my photo, I'm a tabby. I love to play with my little brother, Archie, and take long naps. RIP Blossom - February 23, 2015.