Embroidery
I LOVE to embroider. I started doing embroidery when I was in high school—adorning blue jeans and chambray shirts with flowers, suns, frogs, rainbows, etc. Over the years I have embroidered numerous baby quilts, "7 Days of the Week" kitchen towel sets and aprons as shower, wedding and birthday gifts for friends and family.

I have a very old and worn quilt my grandma Molly embroidered with pictures of nursery rhymes. I can remember as a child sitting on the quilt and imagining myself actually in the scenes she had embroidered. My 94 year old mother Lydella also enjoyed embroidery. My twin sister Marilyn loves to embroider as well. It must be in the genes, eh? :-)

Below are a number of embroidery projects I have completed in recent years.
Two large images from The Vegetarian Epicure
These two embroidered images are based on illustrations in the cookbook The Vegetarian Epicure, by Anna Thomas, illustrations by Julie Maas. I bought The Vegetarian Epicure in 1972 (the year I graduated from high school) because I wanted to expand my culinary horizons. I remember being captivated by Julie Maas's beautiful line drawings scattered throughout the book. When I thumb through the book now, the images take me back to when I was a young woman striking out on my own in the world. I have been wanting to embroider a few of these images for quite some time and decided in January 2011 that I would do just that and complete them before the end of the year. Mission accomplished! The two images were so much fun to embroider—I can't begin to tell you!
Embroidered Portrait
In 2004 I hand-embroidered a large (18"x18") portrait of my twin sister and myself based on the picture of the two of us further down on this page. In 2005 it won third place in a local textile art show! Amazing! It was a VERY fun project to stitch. Take a look!
Mostly Anthropomorphic Kitchen Towels – Christmas, 2010
I embroidered a lot of kitchen towels for various family members for Christmas 2010. I used vintage patterns collected over the years.

Domestic Diva Apron
Check out one of the "Domestic Diva" aprons I have embroidered for friends and family. I've embroidered nine of them (so far!) and they have proven to be quite popular gifts.

Tin Tin and Snowy Dish Towels
When my friend Molly Trebiatowski got married a few years ago, I decided to embroider some Tin Tin and Snowy kitchen towels for her. She had always been a big fan of the comic strip. I found some images online and used those to create these towels. They were a BIG hit.

Cat and Dog Guest Towels
I spent a VERY lovely week in beautiful Traverse City, MI with friends Amy (Sander) and Jim Moore. These cat and dog guest towels are a gift I embroidered and sent to them after my trip. I used a vintage (1940s) Vogurt embroidery pattern to stitch these very kitschy towels!

Coffee Cup Towels
This was my first attempt at designing and drawing embroidery patterns for kitchen towels.

The Cat's Pajamas
Okay, so there are no cats in pajamas on these kitchen towels — just 1960s-era cats performing household chores. I embroidered these towels as a wedding shower gift for Rachel Taylor, oldest daughter of dear friends Ralph and Nancy Taylor. I also embroidered this set for my beloved friend Pat and her husband Jeff.

Home Sweet Home – Rachel and Carlos Lane
I embroidered this Home Sweet Home picture as a wedding present for Rachel and Carlos Lane.

Baby Carolina Embroidered Coverlet
I found an embroidered coverlet at an antiques store in Kalona, Iowa and loved the circus animals stitched on it. I bought it, photocopied the embroidered images, and then used the photocopies to trace the animal images on to fabric. Voila! A baby coverlet for Rachel and Carlos Lane's baby girl, Carolina.

How Now Brown Cow?
Check out the cow towels I embroidered for my friend Cynthia, who loves cows. These were a lot of fun to stitch!

1960s Inspired Dish Towels
I've got quite a collection of vintage embroidery patterns from the 40s and 50s, but have not had much luck finding patterns from the early 60s. Soooo, I created a few of my own and have embroidered several dish towels for friends. Take a look!

Embroidered Square Dance Dish Towels
Click here to view some Square Dance dish towels I embroidered as a wedding gift for my friend Kathie and her husband Todd. I found the pattern several years ago in an antiques store in Kalona, Iowa. I believe it dates from the 1950s. Kathie and Todd, both Square Dance enthusiasts, loved them.

Home Sweet Home - Street and Matty
This project is an embroidered wall hanging made for my friends Amy and Jim Moore. It depicts their two beloved dogs — Street and Matty — that I had the pleasure of meeting during a summer vacation in Michigan in 2002.

Sock Monkey
I made this sock monkey for my great-nephew Blake. It has a LITTLE bit of embroidery on it — see the "B" on the cap.
Web Sites
I taught myself basic HTML back in the late 1990's when the internet was rolling out to the masses. Learning HTML has proven to be a very wise decision. After I got the hang of basic HTML, I started using Dreamweaver and WordPress to design and build web sites. Here are a few I created.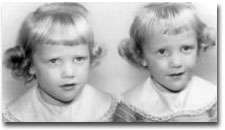 The Agner Twins
I've put together a few pages of photos of my twin sister and I as we were growing up. That's me, Carolyn, on the left and my identical twin sister, Marilyn, on the right. (We're a little bit older now.) Click here to take a look!

Noah's Ark Animal Foundation
I do volunteer work with Noah's Ark Animal Foundation, a no-kill shelter located in Fairfield, Iowa. When they needed help creating a new Web site, I offered my humble services. You can visit the site at www.noahsark.org.